I'm just a mom who lives in the suburbs, shops at big box stores, and wears capris with cotton tees, but I am coveting this dress from SUNO's current Fall and Winter collection, shown here on Norah Jones in Lucky Magazine's August issue.
SUNO, created by Max Osterweis and Erin Beatty, is a stunning label that utilizes gorgeous fabrics and employs fair-market practices in Kenya.  I am captivated by the print upon this dress, and if you look closely, you will notice the superior attention to detail, with tiny animals and figures dancing within the trees.  Click here for a closeup of the print via Vogue Italia.
Ahh, now if money only grew on trees…
3 Comments

on My Covet List: SUNO Dress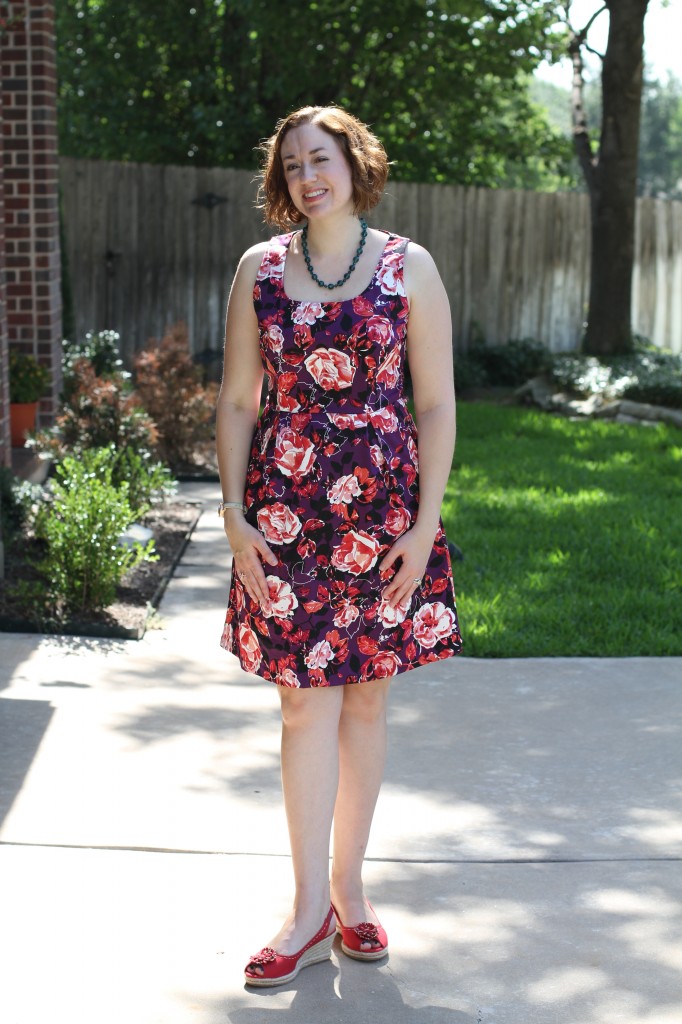 I celebrated my birthday recently with a small family get-together, and wore this dress for the occasion.  It was incredibly hot that day, and just taking pictures in the morning was enough to send us back inside to cool off before the party got started.
Since the dress is cotton, it's completely breathable, so I made sure to purchase both available styles.  Alison from Wardrobe Oxygen says that "the most stylish women have uniforms," and when I find a piece that works for me, I buy as many different colors as I can afford.  (Remember this black tee?  It's one of six in my collection.)
Both dresses come with a removable belt and will easily transition to fall and winter when paired with tights and a cardigan, so they are great, inexpensive investment pieces.
I paired the red dress with my favorite espadrilles and my newly painted beads.  Here's a closeup of the stunning sea glass.  Have a wonderful weekend!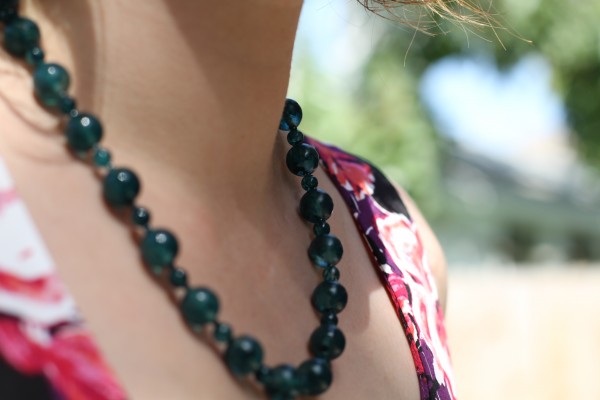 6 Comments

on Party Dress
I'm not a sports fan, to put it mildly, but I do have an appreciation for the discipline and dedication that comes with true athletic prowess.  And you have to admit that the basic idea of the Olympic Games is pretty inspiring.  The notion that, for a few weeks every couple of years, athletes from all over the world can come together as friends, while their countries lay aside their differences, is the stuff of great novels.  Just ignore the commercialism, the scandals, and the criticism, and the Olympic Village is really a Utopian society on a small, temporary scale.  With a few recreational drugs and prostitution thrown in for good measure.
My own personal preferences tend toward the Winter Olympics, perhaps because, as a native Texan, swimming, running, hiking, and shooting are ordinary, commonplace events here.  I love the drama (and the divas) of skating, and there's no better way to spend a cold January night then snuggled up on the couch, watching skiers fly down the slopes of some steep mountain far away, bells ringing in the distance.  That's the part I most enjoy, and that's the Olympics of my dreams.
Frank Deford, a writer, sports commentator, and personal hero of mine (he sure calls it like he sees it!), has an interesting take on the Olympics here.  I recently read Deford's book, Bliss, Remembered
, which takes place during the Summer Olympics of 1936 and involves a romance between a young American swimmer and the son of a Nazi officer.  It's a fine glimpse into the world behind those heavy curtains and offers drama and intrigue, too.
When I saw my doctor this week, he was really excited and asked if I had "Olympic Fever" (his exact words!).  My first thought was to respond, "Why yes, doctor, that's why I'm here," but I thought better of it and agreed that I do, a little.  We talked some about the gymnastics drama, and when he left the room, his young nurse eyed me suspiciously.
"Are you really a big fan of the Olympics?" she asked, "because it didn't seem like you were that excited."  I admitted that I could really take 'em or leave 'em, and she let out a big sigh and said she felt the same way.  That she didn't understand the excitement, even when she was a child, and she wished, for the first time in her career, that the doctor would just go back to talking about football.  I told her that I thought it was okay not to like the Olympics, because not everyone is into sports.
But I really do like this commercial by Frost Bank.  Their ads always make me feel proud to be a Texan.  And swimmer Micah Lawrence, who has advanced to the finals in the 200-meter breaststroke (I had to look that up), is from my little town outside Austin, so that is very cool.  Big congratulations to her!
How about you: Are you watching the Games?  Could you take 'em or leave 'em?
3 Comments

on On the Olympics