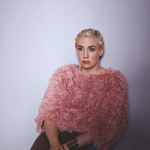 I just finished Not That Kind of Girl, Lena Dunham's eagerly anticipated memoir, and I really liked it.  It's been picked apart by critics and there's even some controversy, too, but I found it entertaining and insightful. Dunham's life is completely different than mine, and I enjoyed her humor and honesty as she describes significant events from her life.  It's clear from the beginning that Dunham doesn't have it all figured out yet, and like most people in their twenties, she's still working on things. She just chooses to do it on paper and in front of a camera, topless.
Because she's not yet 30, most of Dunham's essays revolve around her childhood and college life, and her writing is very relaxed and conversational. Since I'm a fan of both Tiny Furniture (Dunham's film) and "Girls," I find it a bit hard to separate Lena, the writer, director, and actress, from Hannah, the character.  While reading Not that Kind of Girl, I could hear Hannah's voice and I pictured Aura's family loft (seen in Tiny Furniture) when Dunham described it throughout the book. I'm certain that Hannah and Aura are extensions of Dunham, because she created them to embody various aspects of her real life, and everything seems to mesh well in her memoir.
Dunham was raised by artists in New York City and comes from a privileged background, so her writing has an obvious affluent slant to it, sort of like Sofia Coppola's works. I don't mind that fact, and it's a nice escape from my quiet, suburban life. I find Lena Dunham really refreshing and she is honest to a fault.  If Not That Kind of Girl is your first introduction to Dunham, it might be off-putting, but for fans of her show, it's a nice glimpse into her real life.
Have you read the book yet? What did you think?
2 Comments
Ryan spent last week in Belgium for a work conference, and he brought back some wonderful treats for me!  Before he went, I made sure to do my research, and discovered that Belgium is a great place to stock up on French beauty products found in the abundant pharmacies there.  Two great articles are by Bois de Jasmin and The Private Life of a Girl, if you are interested in learning more.  It's common for visitors to bring an extra bag along to tote home their beauty finds, and that's exactly what Ryan did, along with some Belgian beer, of course.
He also bought a lovely box filled with handmade chocolates from Mary Chocolaterie, and as you can see, the box is almost empty now.
My list of beauty items included anything by Roger & Gallet, a French parfumeur that no longer sells products in the United States.  I used their soap as a girl, when my mom was able to buy it at a local perfume store, but now it's incredibly hard to find.  Ryan brought back a large collection of fragrant soaps (only three are pictured here), as well as some lovely body spray, too.  He also found Nuxe's famous lip products, Rêve de Miel Ultra-Nourishing Lip Balm and the Lip Moisturizing Stick.  The balm is thick and heavy, meant to be used overnight and in cold weather, and the stick is great for everyday use.  Some of Nuxe's products can be purchased online, so I can restock if I want to.
I didn't get to visit Belgium myself, but these finds sort of make up for that fact.  And best of all, Ryan has a trip to Paris in the works, so I'm already working on another list.  Have you ever visited a French pharmacy? I'd love to hear about your favorite products.
No Comments
This week was long and crazy, and I'm glad that it's finally Friday. Ryan was away all week and his return flight was delayed significantly.  But he is home today and we are looking forward to a quiet and restful weekend.  Here are a few things that caught my eye this week.
Completed inspections of Bangladeshi garment factories, and what they found.
"Driving Halfway Across the Country to Have a Baby."
This piece pokes fun at the media's coverage of Ebola.
A quick lesson in Latin American design.
What happens when you wear a YouTube makeup tutorial out in public. (Contouring only belongs in front of a camera.)
And the greatest songs from Stevie Nicks.
Have a wonderful weekend!
No Comments