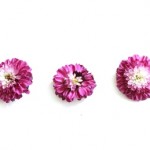 No Comments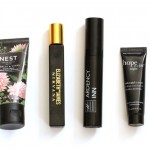 I reordered my favorite mascara recently, so I also bought a few small products I've been planning to try: Nest's Hand Cream and a rollerball of Elizabeth and James' Nirvana Black.  I also cashed in some shopping points and received a deluxe sample of Philosophy's Hope in a Jar Night.  When my order arrived, I noticed the simple black packaging on each item and how effortlessly they all go together, so I had to take a picture.
I'm definitely drawn to pretty packaging, which isn't always a good thing, but in this case, I'm happy with these simple products.  The hand cream is very smooth and has a lovely smell, and it fits nicely in my cosmetic bag.  I've been excited to try Nirvana Black by Elizabeth and James (one of the lines by Mary-Kate and Ashley Olsen) ever since I sampled it in a magazine last fall.  The fragrance has violet and sandalwood, two of my favorite scents, and it's very pretty.  I'm not in love with it and probably won't buy a larger bottle, but the rollerball size is perfect for sampling, and I'll definitely use the entire bottle.  When James hugged me one morning this week, he said, "You don't smell beautiful," so I guess this won't become my signature scent after all.
Ardency Inn's Punker is my current favorite mascara, and the reason for this entire order.  And since I'm thrilled with Philosophy's eye cream, I was eager to try this sample of night cream, too.  I only use a bit of moisturizer at night, so this will last a while, but it has a very strange smell that is rather unpleasant, unfortunately. Some of the comments on Sephora's site also mention this, and I don't think I'd ever purchase an entire jar. I'll probably finish off the sample so it doesn't go to waste, though.
Still, the bottle is pretty and I love the simple designs of these products.
2 Comments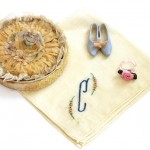 This winter was long and cold, and I found myself feeling really uninspired.  Usually, blogging is my creative outlet, but I just didn't have much to write about, besides my purchases here and there.  I realized I was in need of another creative interest, and I've really enjoyed experimenting with product photography recently.  That got me thinking about the things I like to surround myself with, and I realized that I could easily document the knick knacks and small items that find their way into my home, and my heart.
I like to decorate with small vignettes, grouping items of meaning together in a display, and I like the word vignette, too.  In literature, a vignette is a short scene or description that gives a small glimpse into a character's thoughts.  When I display a few little treasures on my dresser or mantel, I often think about how I came to own these pieces and the significance they hold for me.  I thought it might be fun to photograph them to share on my blog from time to time.
My small vignettes are fleeting, and I compose them to take a picture, and then disassemble them again.  Sometimes, they are objects I gather in a hurry, sometimes they are fading flowers that I might want to remember before they turn to dust.  In that way, they are ephemera, like a postcard or a receipt, not meant to be saved, but often, they are.
The vignette above actually exists on my bedroom dresser, and I have an antique compact, a vintage handkerchief, a tiny pair of shoes, and a small rosette ring I found on the ground at the park.  The first two pieces were gifts from my mom, the shoes I found at an antique store shortly after my grandmother died, and they remind me of her, and the ring is a tiny treasure that brightened an ordinary day.  Just small, simple pleasures that don't hold much meaning to anyone but me.
I think that's the point of ephemera, its fleetingness, and I like the idea of preserving it here, for just a bit longer, by sharing it with you.  These little scenes make me happy, and I hope you'll enjoy them, too.
4 Comments