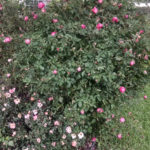 Today is Earth Day and, after a week of heavy rains in central Texas, the sky is blue and it's definitely feeling like late spring. My younger son and I took a nature walk through our neighborhood one afternoon after a storm, and I was struck by the beauty of the trees, grass, and flowers against the dark sky. We came home with handfuls of tiny wildflowers to brighten our day.
To commemorate Earth Day, the members of the Ethical Writers Coalition have compiled a list of ways we honor the earth every day, and I'm sharing a few of my favorites:
I honor the Earth throughout the year by using cloth menstrual pads instead of disposables and washing them with eco-friendly detergent. —Leah Wise, Style Wise
I honor Mama Earth every day of the year by always being mindful of my actions, asking questions before I purchase, and appreciating the beauty of life. —Faye Lessler, Sustaining Life
I honor the earth every day by treading lightly on her resources and inhabitants as I practice minimalism, veganism, and use public transportation as much as possible. —Elizabeth Stilwell, The Note Passer
You can read the entire list here at Leah's lovely blog, Style Wise.
Keeping with the Earth Day theme, I'm a new natural beauty reviewer for EcoCult and my first review was published yesterday. It's a really fun writing gig for a beauty junkie like me!
We're also nearing the end of Fashion Revolution Week, and the actual day marking the anniversary of the collapse at Rana Plaza is Sunday, April 24th. This is the time to find out, "Who Made My Clothes?" by posting pictures of your clothing tags on social media and asking your favorite brands about them. You can read more about Fashion Revolution at their site.
And I turned on the radio yesterday just as Prince's death was announced. His music was part of the background to my childhood and teenage years, and he definitely leaves an impact on those of us who grew up during the 80s and 90s. My favorite song is probably "Raspberry Beret." What's yours?
Have a wonderful Earth Day and I hope you'll take a minute to consider your own impact on our planet.
No Comments

on Earth Day 2016 Odds and Ends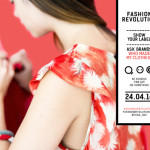 Monday marked the start of 2016's Fashion Revolution campaign, which is an entire week this year. As the movement grows, it's important to remember the tragedy that captured the world's attention on April 24, 2013, when Rana Plaza collapsed in Dhaka, Bangladesh, killing 1,134 garment workers and injuring over 2,500. For many of us in the western world, that day brought a hugely needed wake-up call to the fashion industry, as the plight of these employees was laid bare before our eyes and we could no longer look away.
The collapse of Rana Plaza greatly changed my perspective on my shopping and fashion habits, and something I once loved as a fun and careless hobby soon became a driving force in my life. As I've educated myself about fast fashion, choosing to focus on supporting ethical and fair trade brands, I've found myself becoming more of an activist as each year passes. Joining the Ethical Writers Coalition has challenged me to continue this path in all areas of my life, and I'm constantly learning and questioning as I go.
I've written about Fashion Revolution in 2014 and 2015, shared tips to help you shop responsibly and told you about the beginnings of my own ethical journey. The ethics of fashion have forced themselves into all aspects of my life, and I definitely feel like I've made a lot of changes for the better, though it's always a journey and I am still on my way. Many hours of research, thought, and discussion have gone into the ideas I share in this space, and I hope that you continue to find them helpful.
This year's Fashion Revolution campaign continues to encourage consumers to find out "Who Made My Clothes?" by asking brands on social media. It's a great place to start, but I encourage you to do more, to take responsibility for your own part in the fashion process, and to shop more ethically and responsibly, too. It's not enough to ask a question if you never get an answer, but if you decide to put your money where your values and beliefs are, then change can come from that, I think. I hope.
My personal Fashion Revolution occurred three years ago, and I am steadfastly on the other side now. But I plan to continue as a guide and a source of information and, hopefully, inspiration, too.
Some helpful resources for Fashion Revolution 2016 include:
"The Clothes Keeper" by Orsola de Castro, founder and director of Fashion Revolution.
"A Moral Sense of Beauty" by Carry Somers, founder and director of Fashion Revolution.
Ethical Writers' posts on Fashion Revolution 2016:
Sustaining Life
The Peahen
Green or Die
Sotela
Eleanor Snare
EcoCult
StyleWise
Kamea World
Terumah
Leotie Lovely
My Kind Closet
Let's Be Fair
These Native Goods
IMBY
3 Comments

on Fashion Revolution Week 2016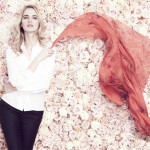 The Duke and Duchess of Cambridge, William and Kate, are wrapping up their much-publicized tour to India and Bhutan. As always, Kate's fashion choices are a favorite topic, and What Kate Wore is a thorough and excellent source for all of the sartorial details of the royal wardrobe, as well as for interesting tidbits from the trip itself. The Duchess's pieces for this tour are obviously both carefully selected and culturally appropriate, and Kate seems to have moved outside her normal style and is trying brighter colors and bolder patterns, too.
The Duchess dresses like many women and favors a mix of high-end designer pieces combined with "high street" or fast fashion finds from brands like Zara. She is also frequently seen in dresses or suits by Beulah, a British brand working to improve the lives of trafficking victims, and in pieces by Roksanda, a luxury design house with pieces produced mostly in the United Kingdom, France, and Italy.
A few of Kate's tour pieces have received a lot of attention, especially as Fashion Revolution Week quickly approaches. Earlier this week, Kate wore a dress from Anita Dongre that instantly became popular and crashed the designer's site with a flood of orders. This article examines more about the popularity of the dress and gives readers a glimpse into the lives of the two seamstresses who worked on the piece, Babita Sabath and Chanda Padol.
For the third day of the tour, Kate wore a long-sleeve maxi dress from a little-known brand called Glamorous, which retails for around $40 at ASOS. I did a bit of research and could not find the origin of this piece, so I have to assume it's a fast fashion design made in India, Bangladesh, or somewhere similar. The Duchess chose to wear it while she met with children living in a shelter, and I expressed my concerns about the dress in a comment on What Kate Wore. The site has a strict comment policy, and while my thoughts were polite and respectful, my comment was not published. On Tuesday, a fire broke out in a garment factory in Mumbai, and as many as 100 workers were trapped inside. It's important to remember where our clothing comes from and who makes it, and just because a piece looks culturally appropriate for a specific situation does not, in fact, mean it is. I think this is a relevant conversation worth discussing and I was sad to see my comment censored on such an informative site.
Yesterday, the royal couple arrived in Bhutan, and Kate wore a traditional Bhutanese half-kira, a hand-woven skirt with intricately stitched designs, created by weaver Kelzang Wangmo. She is renowned for her work and has been honored by the Royal Textile Academy. What Kate Wore's post on the kira is interesting and includes a short video of Wangmo as she reacts happily to news that The Duchess of Cambridge wore her design.
As Orsola de Castro explains in the article mentioned earlier, The Duchess of Cambridge is a "fashion revolutionary in the making." While she hasn't fully committed to wearing only ethically made clothing, she recycles and wears her clothing for many years, which is a great way to start on the path to sustainability. I'd love to see more ethical choices appear in Kate's wardrobe, and I'm grateful that the popularity of her style allows for this discussion to take place.
Fashion Revolution Week begins Monday and you can read more about it here.
No Comments

on The Duchess of Cambridge and the Politics of the Dress