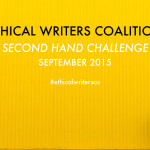 For the month of September, the Ethical Writers Coalition is hosting a Second Hand Challenge to raise awareness about buying previously owned items. We're all tackling different aspects of this issue, but our overall goal is to shed a little light on using second hand goods as a way to encourage sustainability and the reduction of waste. Have you ever wondered what happens to all those old clothes you donate? Here's a brief and unsettling explanation.
Since I'm not in the market for clothes or any major purchases this month, I'm focusing on creative ways to pass along the things I no longer need. My goal is to avoid donating items to donation centers like Goodwill, since that's basically the same thing as throwing stuff directly into the trash. I'm guilty of both, so this experiment is definitely proving to be a learning experience. And Leah offers an excellent look at the complicated nature of the second hand market.
September is the perfect time for this challenge, since it's Back to School season, as well as the release of new fall fashion lines. What better way to stretch your sartorial creativity than by recycling your mother's vintage pieces into a new outfit or swapping children's clothes with your friends? There are so many different ways to reuse what's out there without buying new, and we're planning to share these ideas with you.
Be sure to follow my fellow Ethical Writers, including Leah, Elizabeth, Kamea, Sotela, and Juhea and team, as well as our Pinterest board and the hashtag #ethicalwritersco on social media.
3 Comments

on Second Hand Challenge
This December will mark ten years in our current home, and as I've been preparing the boys for school, I've begun to realize how much stuff we've accumulated in that time. I'm a tidy person and haven't read a certain book on the subject that's really popular right now. But from time to time, I like to do a clean sweep of things and really weed out unnecessary objects from our house.
As an ethical consumer, I'm aware that what I choose to remove from our home doesn't magically disappear, so I'm trying to think of creative ways to pass things along to others. My goal is to share my findings with you as I slowly but surely cull some of the items that have piled up after a decade of living in the same place. These things are mostly decorative and serve no real purpose, so I'm not emotionally attached and am happy to pass them along to other people who might enjoy owning them.
Alongside my series, my fellow members of the Ethical Writers Coalition will be participating in a Second Hand Challenge in September. I will give you more information soon, but the idea goes hand-in-hand with my quest to find alternatives to throwing things away. I hope you might find this series insightful, and feel free to offer your own suggestions, too.
5 Comments

on Cleaning House
This week was all about going back to school and learning new routines, and next week will bring more of the same. Things change a little with the start of each year, but the boys are doing well and hanging in there. It will be nice to have a relaxing weekend after the hustle and bustle of this week. Here are a few things that caught my eye.
Getaway offers the chance to experience a tiny house without the commitment of moving in.
A gorgeous, modern ranch house in California.
Why we should spend our money on experiences that make us happy.
George, a new chapter book for children, tells the story of a young transgender girl.
And one clever guy turns IKEA products into puns, just to annoy his girlfriend. Hey, Donna.
Have a great weekend!
No Comments

on This and That