The boys have settled into their school routine and I've got some extra time on my hands to think about my blog these days.  Last year, I enjoyed the thrill of growing my blog, attending conferences, and even finding a few freelance writing gigs. I thought this year would bring more of the same, perhaps in bigger ways, but it's been much quieter.  I cut back on my posting schedule as home demands became greater, and while I think I've found a good balance, I still think about what I could do differently.
Kory Woodard, whom I've worked with as she designed my blog (twice!) and as I edited her eBook, offers a mini blog consultation session for her email subscribers.  I really value her opinion and fresh insight, so I signed up for a slot and she gave me her feedback last week.  It was a great experience and I always find it helpful to get a second opinion on things, especially when it's something you look at day in and day out, like your blog. Fresh eyes are always a good thing, and Kory gave me some wonderful tips that I'm exploring and trying to implement now.
I don't have visions of grandeur, and my blog will always be my creative outlet, but I'd love to use it as a starting point to find writing jobs and broaden my horizons a little more.  Kory recommended Esmé Wang's blog, and I found this post incredibly inspiring. I love her accessibility and honesty, and she's becoming one of my new favorite reads.
Just to start a few things in motion, I added all of my ethical style posts to my Portfolio section. I've been meaning to do this for a while, and now there's a list of all the brands I profile and wear on a regular basis. And I signed up for Alt for Everyone which takes place at the end of this month. It's a great value for the price and there's no traveling or snow involved.  Ryan has promised to help me juggle the boys' schedules during the sessions, and I'm excited to learn a few things and find some inspiration, too.  I'm also thinking about the topics I write about and wondering how those might change as my blog evolves.
It's all pretty exciting and I feel inspired to try a few new things. I'm always open to suggestions, too, so if there's anything you'd like to read about, or see more or less of, feel free to tell me. I'll be sure to share my thoughts on the Alt seminar in the next few weeks, too, so stay tuned!
6 Comments
No Comments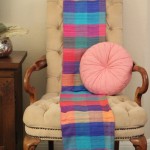 I'm not a wearer of scarves, but I admire the gorgeous fabrics I see draped across the necks of other women.  I have a few scarves in my drawer, and it seems like such a waste to keep them there, so I did a quick search recently and found an inspiring post on decorating with scarves.  Just because I don't like things around my neck doesn't mean I can't put my scarves to good use, so I got creative and used them around my house to spruce things up once September arrived.
I've had this gorgeous scarf from Passion Lilie for a few months, and when I switched out my pillow covers recently, I decided to wrap it around a rectangular pillow.  It works well and blends nicely with the other calm blue pillows on my couch.  I like seeing the pretty pattern and the pillow gets a lot of use (and abuse) from the boys.
Recently, my mom gave me Noonday's Himalayan Scarf and I knew immediately that I wanted to display it somehow.  The scarf is quite large, more like a wrap, and the colors are so beautiful for fall.  I just draped it over my old chair and it adds a nice touch of color to a quiet part of my living room.
And it's taken me a while, but I think I'm finally falling in love with our "new" couch and loveseat that we bought back in December.  I had a bit of buyer's remorse about the color and fabric choice, and while microfiber is not my favorite fabric at all, it is incredibly durable and easy to clean with children around. I tried styling the pieces so many different ways, and I've finally decided that they look best with pillows in shades of blue, along with the neutral rug and curtains.  My living room finally looks more like the image I've had in my mind for so long, and it's a comfortable place where we spend the majority of our time.
Plus, the pretty scarves add a little whimsy and are easy to change with the seasons. I might start a scarf collection after all!
3 Comments