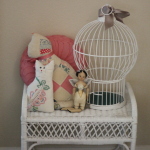 2 Comments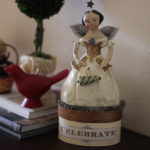 Since I became a mom, I've definitely found the holiday season to be more stressful. I think that's normal, because I'm responsible for making sure things get done and Christmas arrives on time at our house. Last year, I was feeling especially harried, so I switched to a smaller tree and didn't send out Christmas cards. It was the first time ever that I didn't do cards, and though I had more time to spend on other activities, I still felt guilty.
This year, I'm back to addressing cards again, but I didn't even attempt to take a good photograph that could become our Christmas card. I'm not the type to send out a family photo, but I've always figured most people enjoy seeing a yearly picture of children as they grow. Getting two little guys to hold still and smile simultaneously is tough, and most people that receive our cards actually see the boys during the year. No harm done.
I'm also spacing out the actual card writing process, addressing a few each evening, instead of the marathon card session I've done in years past. This makes it less stressful and gives me time to spend relaxing and blogging in the evenings, too. Right now, I'm focusing on the boys' teachers and those that care for James and Rhys in one way or another. As I made the list, I realized just how many people actually spend time with my little guys each week, and how grateful I am to them for doing so.
The Christmas card writing process is tedious, and I admit that it's not my favorite thing to do. I don't get excited about stamps or stationery; they are just not my thing. But writing short notes to the people in my boys' lives has been a wonderful exercise in gratitude, and I've come to realize that sending Christmas cards is as rewarding as receiving them. A quick note of thanks and well wishes can mean so much, and it doesn't matter if the card is handmade or features a professional photograph of a well-dressed family. Those are great if that's your thing.
This year, I'm going with simple, pre-made cards, but I'm taking the time to write personal messages to the people who mean so much to my family. It's become a quiet part of my evening routine, and I'm learning so much in the process.
2 Comments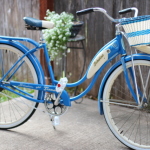 My dad cleaned out his garage recently, and asked me if I'd like a pair of old bicycles he's had for years. I jumped at the chance, since Ryan and I have been talking for months about buying bikes to ride with the boys.  The bikes I've inherited belonged to my parents, and I used to ride them when I was growing up. One is a basic brown bicycle from the late 1970s or early 1980s that reminds me of Jack Tripper ("Come and knock on my door…").  The other is a blue vintage Schwinn that my mom rode as a girl, and it's my new bike now!
When my parents came to visit while Ryan was traveling, they brought both bikes and we dropped them off at a local bike shop to be cleaned up and repaired. The process took about three weeks, mostly because the tires on the Schwinn had to be special ordered, but it was definitely worth the wait. And for less than the cost of one new bicycle, we now have two refurbished bikes in excellent riding condition, as well as the family memories that come with them.
As a girl, I'd go on long rides with my dad and sisters, sometimes accompanied by neighbor kids. We would ride to the undeveloped edges of our subdivision, often seeing cottontail rabbits along the way. Those rides are one of my happiest childhood memories, and I can't wait to share the same experience with my boys as they get older.
I didn't grow up wearing a bike helmet (did you?), so that is something I'll have to get used to, along with actually riding a bike again. They say you never forget how to ride a bike, but it's been years since I've ridden, and I've felt really nervous and unsteady the few times I've sat on the bike in my backyard. I have to practice before I start riding with the boys, and I'm sure I'll be nervous at first, but I'm looking forward to that feeling of freedom I had as a girl on those long bike rides. I hope I can feel it again.
6 Comments