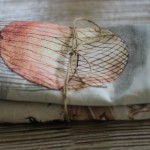 Whew, this week literally flew by, and the boys are now out of school for the holidays!  They are both fighting small colds, and James' fifth birthday party is this weekend.  Next week is full of last minute preparations, and then it is Christmas!  Where has the time gone?  Here are a few things that caught my eye this week.
We're used to loose livestock on the roads down here, but this time, it was an emu.
And this guy was deadly serious about his tacos.  I hope they were fabulous.
A new Johnny Cash album is coming next year.
SeaWorld is feeling the heat from this new documentary.  (I'm such a cynic, but even my six-pound domesticated cat used to practice killing her toys, so this revelation comes as no surprise to me.  Animals are, well, animals.)
The musical link between Steven Van Zandt and Nelson Mandela.  Hear the song here.
Thoughts on Gisele's breastfeeding photo.  (This photo of Pink is one of my favorites.)
Judy Blume and Lena Dunham, together.
And Fleetwood Mac's Christine McVie and Stevie Nicks, together.  And "Songbird," just for fun.
Have a fabulous weekend!
2 Comments