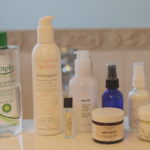 My favorite beauty vlogger, Ashley of makeupTIA, made a fun video tag this week featuring her favorite skincare products, along with Sandra of ttsandra. The questions were really fun and informative, so I'm participating because you know how much I love talking about beauty products and skincare. I tried to answer as honestly (and briefly) as possible.
1. What's your skin type?
My skin is truly combination, with an oily T-zone and rosacea that makes it sensitive at times, too.
2. How do you store your skincare products?
I keep my cleansers and toner by the sink, and my serums and moisturizers in my medicine cabinet in my bathroom.
3. Favorite ingredient?
Hyaluronic acid is wonderful for adding extra moisture, and I've been using Now Foods' Hyaluronic Acid Firming Serum for several months. It's extremely gentle and is especially great for fall and winter.
4. Most indulgent product?
I recently bought a jar of One Love Organics' Skin Dew Coconut Water Cream, their newest moisturizer that is very light and extremely moisturizing. It's fairly expensive, but a little goes a long way and I think it will be great as a nightly moisturizer during the spring and summer, too. I'm also a dedicated user of Mullein & Sparrow's Immortelle & Myrrh Facial Serum. The bottle is incredibly small and delicate, but I try to stock up when Mullein & Sparrow offers a discount code on their site. I would drink this serum if I could and it is very calming and balancing for my skin.
5. Best budget buy?
Simple's Micellar Cleanser Water is extremely gentle and effective at removing eye makeup, and I've found that it works better than Bioderma. The larger size bottle of 13.5 ounces is less than ten dollars at the drugstore. I use it nightly with washable cotton pads.
6. Do you use any tools?
I have never tried the Clarisonic because my dermatologist does not recommend it. Occasionally, I will use my Shiseido Cleansing Massage Brush if my skin needs a bit of exfoliation while I'm washing it. I also use a cotton washcloth to wash my face at night, and will gently massage the cloth against my skin if it's looking dry.
7. Best mask?
My skin reacts easily and masks usually cause itching and redness, so I mostly avoid them. Very rarely, I will apply a layer of natural honey and leave it on for about 10 minutes. I've tried many different masks and never had good experiences, so I tend to avoid them.
8. Best multi-use product?
I really love Rosemira Skincare's Unscented Rich Moisturizing Cleanser & Night Cream, which is a cleansing and moisturizing balm. It's an excellent moisturizer for colder months, and you can also apply it to your arms and chest, as well.
9. If you had to stick to only one skincare brand, what would it be?
This would be really hard for me, because I've spent several years searching for the best products for my skin, and they are from many different places. But to answer the question completely honestly, I would be happy to use Cetaphil's RestoraDerm Eczema Calming Body Wash and Moisturizer, since they are incredibly gentle on my face and skin. When I'm suffering from allergies and my face reacts, the wash and moisturizer calm it immediately. I've yet to find any more natural substitutes. I also really love many of Avène's products, which are formulated for sensitive skin.
10. Best spot treatment?
Retin-A. It's worth it to get a prescription.
11. Favorite step of your skincare routine?
Washing away my makeup at the end of the day feels very nice, but massaging the serum and moisturizer is truly relaxing.
12. What's on your skincare wishlist?
After years of trying hundreds of products, I've finally found the things that really work well for my skin. Once in a while I will try something new, but I'm much more cautious these days. I am curious about Glossier's Super Pack Serums, but haven't tried them yet.
These questions were so much fun to answer! Be sure to visit Ashley and Sandra's channels to see what they recommend, too.
No Comments

on The Best of Skincare
A recent conversation about a shirt, printed with these words: "The Future is Female," made me think about the way I dress and how it's perceived.
I don't consider this shirt truly political; at least, I didn't before that discussion. As it turns out, the shirt has very political origins, which you can read more about in this New York Times article. Originally designed in the 1970s for Labyris Books, the first women's bookstore in New York City, the shirt became well-known after Alix Dobkin wore it in a photograph taken by her girlfriend, Liza Cowan. The current version was recreated by Rachel Berks, owner of Otherwild, and a portion of the proceeds are donated to Planned Parenthood.
So yeah, it's political. But why, I wondered, did I not see that?
That question has bugged me over the last few weeks and I've been thinking a lot about the political aspect of fashion. Hoda Katebi, one of my favorite fashion-slash-political activist bloggers wrote a wonderful post, On the Political Value of Fashion, and I've read it several times. She was also recently profiled in a Mother Jones article that should be required reading. Hoda asserts that "You cannot choose to be apolitical about your fashion choices," and I agree.
And this Vogue article explores the ways in which Black female activists used fashion as an extension of their work. Fashion is important because what you choose to wear sends a statement to the outside world, and we need to be clear about what statement we are sending.
As a supporter of ethical fashion, I'm used to thinking differently about the clothing I purchase and wear. That, I'm realizing, is a political statement. Everything that I choose to cover my body, from my underwear to my shoes, is carefully researched before it's purchased. It sounds boring and tedious, but it's become a routine habit. Once I thought nothing of killing an hour by shopping at a local retail store and often bought things impulsively, but eventually my eyes were opened. As I began to understand the implications of fast fashion on the rest of the world, I worked to change my habits. It's taken years to adapt to a new routine, and it's a difficult conversation to have with friends and family who might not understand. But now, it's become who I am, and I'm able to look at clothing and fashion through different eyes.
When I think back on my fashion choices throughout my teenage and early adult years, there's an emerging pattern of quiet rebellion. Attending a public high school, I never had to wear a uniform, but I also couldn't afford a lot of the name brand styles that were popular in the late 1990s. I began to secretly loathe the idea of prominently displayed logos on shoes, purses, and sweatshirts, and that awareness of clothing as advertising has stuck with me as my style has changed. In college and into my early years of teaching, I adopted a dress code that looked a lot like Pam Beesly from The Office, wearing affordable separates that could be mixed and matched with knee-length skirts and black loafers. I wore hose to be modest, and as a very young teacher in a public high school, I did not want to draw any extra attention to myself.
After I moved to Austin, my style relaxed a lot, due to the overall political climate here. Two separate jobs later required me to wear a uniform, and I balked at the suggestion. I have a very distinct memory of almost getting fired for not wearing a college sports shirt to work one day, simply because I did not support college sports, and did not own a college sports shirt. I had to borrow a friend's shirt to continue working. Later, during my very brief stint as a Mary Kay consultant, we were required to wear a skirt and blouse to all of our meetings. That was no problem, but I somehow failed to notice that the blouse should be white and the skirt should be black, and I stood in a room filled with dozens of women, all wearing the same outfit, while I wore a bright pink sweater and a grey skirt. Oops. After that experience, I realized that I don't like being told what to wear.
Now, I'm a mom in my late 30s, and I'm free from the dress codes of school and office settings. But I still find that there's an unspoken dress code or dominant style in my city, and again, I seem to quietly push against it. I stopped dyeing my hair several years ago because I was tired of the maintenance, but also because I decided I'm fine with looking my age. It's normal and beautiful to have grey hair in your 30s (or in your 20s, or 40s, etc.), and I have learned to love mine. I've adopted a basic uniform of jeans, a blouse or shirt that I find interesting, and a comfortable pair of shoes. In the winter, I add a cardigan for warmth, and in the hot months, I switch things up with skirts and simple dresses.
When I read The New Garconne recently, I was struck by the simple style of the women profiled, and so many mentioned two things I identify with: always wearing a uniform and maintaining a sense of individual style. When I made the leap into ethical fashion, I left behind a lot of my favorite trends from previous years, and I've embraced simple cuts and colors. Shopping ethically means giving up a lot of unnecessary details and embellishments, and I've truly learned to see the beauty in a simple stitch or quiet pleat. I know that my clothing is handmade by someone who cares about their work because they are safe and fairly paid, and I can honor their skill and talent by wearing these pieces for as long as possible. Their creations cover my body in the most personal way, and it is only right that I value their contributions for what they truly are.
That doesn't seem political when you think about it, but I guess it is.
4 Comments

on My Fashion Politics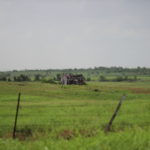 Since Trump took office, I've seen a mix of both hopefulness and despair among my friends and family. Living in a smaller city on the edge of Austin, there are plenty of opportunities for political action if you have the time and energy. Many of my friends with children seem anxious to participate, but unsure how to start, especially while juggling jobs, the needs of their families, and the minutiae of everyday life.
As an ethical blogger, I'm constantly reading, researching, and following the political climate in our country, though I absolutely understand that not everyone has the time to dedicate to these pursuits. Still, if you are looking for simple ways to make a difference in your community while attempting to resist Trump's new regime, here are a few easy things to try.
Join a local group, or organize your friends and family. You don't need an agenda or regular meetings, but stay in touch with your loved ones who are equally concerned. You can lean on each other for support, attend protests or meetings together, and work to contact your members of Congress. There's strength in numbers.
Follow your elected officials, at the local, state, and national levels. If you don't know who represents you, now is the time to find out. Your local school board members often have access to your state legislature and even Congress, so share your opinions with them via social media, emails, and direct calls. Bug them if you have to, politely, of course.
Vote. This tip might seem obvious, but remember that mid-term elections are literally next year. If there's a congressman making poor decisions (I'm looking at you, Michael McCaul), vote him out of office. Or, campaign for the officials you support.
Volunteer at your local school, community center, or food pantry. This is a great way to meet your neighbors while also giving back. You'll get to know people you might not meet otherwise, and hopefully learn a bit about their lives.
Support community businesses. Commit to shopping and eating in your neighborhood, and support Black, Muslim, and Latino-owned restaurants and stores. Encourage your friends and family to do the same.
Subscribe to your local paper and other sources, too. Freedom of the press is under attack, and it's especially important now to understand where your news comes from. Facebook doesn't cut it and your local news channel runs on ratings. Find trusted sources you believe in and check them regularly. Many online news subscriptions also offer daily and weekly recaps. I support my local newspaper, The New York Times, and The Guardian.
I hope you find these suggestions helpful, and feel free to offer your own. Great change can come when we work with our friends and neighbors to make a difference in our own communities, and now is our chance.
Resources:
A Texan's Political Guide to Resisting Trump, from The Texas Observer.
Indivisible: A Practical Guide For Resisting the Trump Agenda
Allyship Post-Trump: 5 Things to Remember, from JooJoo Azad.
My post on The Ethical News Consumer.
2 Comments

on Activism in the Suburbs: Easy Things to Do that Make a Difference