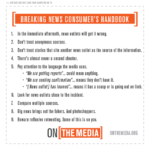 When I shop for clothing, I research and find the best possible ethical options, and it occurred to me recently that I consume news in a similar way. It's taken a lot of time and effort to become a well-versed ethical consumer, and this habit carries over into my daily news reading. Or, more likely, my news obsession eventually led to a better understanding of how our clothing is made, which started my ethical journey. Either way, I'm convinced that, since I strongly identify as an ethical consumer, I have a responsibility to be an ethical news consumer, too. That means finding and reading reputable news sources with a variety of viewpoints represented, double checking things that might not seem factual, and questioning everything. Just because you read something online or see it on TV doesn't mean it's true. The above graphic from On the Media is a great reference, and its points can be applied to many aspects of today's news coverage.
Over the weekend, I listened to The Texas Miracle Podcast from The Texas Observer. This episode contained three parts: a Texas pastor's reasoning that Jesus would use the phrase, "Black Lives Matter;" a remembrance of Sandra Bland one year after her death; and a roundtable discussion of several topics, including the media's misrepresentation of the Black Lives Matter movement. The third segment was especially interesting and explored the lack of objective coverage of the deaths of Black people and the way in which these murder victims are portrayed in the news. Also within the roundtable talk, Christen Smith, a professor from The University of Texas, discussed her theory that the trauma of police violence is slowly killing Black women in less than obvious ways. She recently wrote an article on the topic, and it's available here.
And since his death several weeks ago, I've had this story on Bill Cunningham bookmarked. Cunningham was, Robin Givhan explains, the very definition of ethical journalism. In a very similar manner, we as ethical consumers must educate ourselves and seek out news coverage in a fair and ethical way, to ensure that we're reading and hearing all sides of the story before we form our own opinions.
4 Comments

on The Ethical News Consumer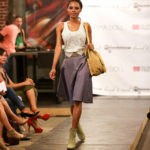 Bead & Reel, the lovely ethical boutique founded by Hollywood costume designer Sica Schmitz, is holding its second annual Fair Trade Fashion Show Fundraiser in Los Angeles this Saturday, July 16th. Partnering with The Peace Exchange, a fair trade non-profit, the show will feature pieces by ethical designers including Passion Lilie, one of my favorite lines. If you're in the area, it's a wonderful opportunity to see ethical fashion in person and support a worthy cause. Tickets can be purchased here and all proceeds benefit The Peace Exchange's non-profit sewing centers in the Congo.
***
Here are some other ethical tidbits I've found interesting lately.
Björk will wear a 3D printed dress, first seen at New York Fashion Week, to her upcoming shows.
At the Fork: A Film about Husbandry and Wife is a study of the production and use of animals in the United States, profiled by the filmmaker, an omnivore, and his wife, who is vegan.
This Los Angeles-based company refashions leftover beer filter cloth into vegan handbags.
R.L. Linden, a gorgeous natural beauty brand, is currently expanding their business and has launched a crowdfunding campaign.
No Comments

on Bead & Reel Fair Trade Fashion Show Fundraiser
Today was my son's birthday and I woke up to the news of Philando Castile's death, less than a day after Alton Sterling was killed by police. We opened presents and ate donuts while two more families are preparing to bury their sons. It's sickening, and heartbreaking, and so many of us feel powerless and frustrated in the face of this epidemic of blatant racism and hate. It's three days after the Fourth of July, and our country is far from united. Black men, women, and children aren't safe on our streets, and the truth is, they never were.
I don't have any answers, but I believe it helps to talk and write about the injustices we see and read about. Many bloggers and social media activists are voicing their concerns, and I think it's valuable to share your own thoughts and to speak up, too. If you're concerned and angry about the murders of so many Black people at the hands of law enforcement, talk to your friends and family. Call and email your politicians and consider ways in which you can volunteer your time. Pay attention in your neighborhood and city and find ways to make things a little better. If we can learn to love our neighbors and look out for each other, that love will ripple and flow, and maybe, just maybe, make a difference.
My heart is breaking and I've cried for these men I never met, for their mothers, and their girlfriends, and their children. Their stories are not my own, and they deserve the chance to speak and be heard. Listen. Watch the videos that are posted, as difficult as that might be. Because Black Lives Matter.
Here are some posts I found helpful today:
Advice For White Folks in the Wake of the Police Murder of a Black Person by Justin C. Cohen.
This Is What White People Can Do To Support #BlackLivesMatter by Sally Kohn.
Black Exhaustion by Pilot Viruet.
Black Lives Matter by Grace Bonney of Design Sponge.
On Teaching and the Murder of Alton Sterling by Laurie White.
1 Comment

on Black Lives Matter