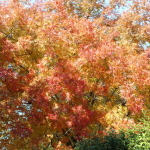 This post is a day early, but I'm busy preparing for Thanksgiving tomorrow.  We're hosting family and friends for a small and relaxed celebration, and I've been working all week to get everything ready. The boys are out of school and we're enjoying the beautiful fall weather that has finally arrived in Austin.  There's a Chinese Pistache tree that grows just beyond our back fence, and this time of year, the leaves turn fiery. It's a beautiful sight and I enjoy seeing the tree through my windows while I'm working.
This week, we've already reunited with old friends and we'll spend time with more friends and family soon, too. I've come to love the relaxed nature of Thanksgiving before the hustle and bustle of the Christmas season, and after a busy fall, it's nice to have an entire week to relax and enjoy time together.
I wish you and your family a wonderful Thanksgiving!
No Comments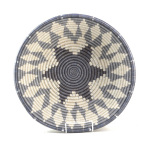 I'm always excited to find more fair trade stores, and I recently learned about All Across Africa, a Benefit Corporation that works with artisans in several African countries. All Across Africa specifically focuses on rural, under-developed parts of Uganda, Kenya, Burundi, and Rwanda to provide job training and an opportunity for workers to earn a fair wage as trained artisans.  The company is certified fair trade and employs a team of international employees to oversee the entire process.
The pieces sold by All Across Africa are both lovely and useful, and I find the meaning behind the woven baskets especially interesting. Each pattern is significant and conveys the importance of friends, family, and love, according to the customs of Rwanda and Uganda. These items are utilitarian, but they are also the product of countless hours of artistic design and handiwork.
All Across Africa also carries a large assortment of beautiful jewelry and bags, including the earrings and makeup bag shown here.  If you're looking for fair trade gift ideas this Christmas, definitely visit All Across Africa and you'll find something you love.
(Photos courtesy All Across Africa.)
No Comments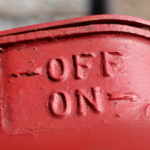 This week was cold, but I'm finally getting over that bout with bronchitis. Wednesday, we had a perfectly beautiful fall day, with blue skies and falling leaves, and now it's raining. This weekend, we'll start making preparations for Thanksgiving and the boys will be out of school next week. I'm looking forward to the slower pace for a few days and I also hope to catch up on some much-needed sleep and episodes of "Peaky Blinders." Are you watching it? Here are a few things that caught my eye this week.
This British cottage is exquisite and looks like something from the pages of a Maeve Binchy novel.
And this New York couple lives in 242 square feet.
These drawings referencing pop culture icons are making the rounds online, but they are really awesome.
Ursula K. LeGuin received the Medal for Distinguished Contribution to Letters at the National Book Awards.  This short story has always been one of my very favorites.
The Duchess of Alba, an eccentric Spanish aristocrat, has died. Her obituary is fascinating.
"The scar of my adoption lingers daily." Some adopted children are speaking out about their negative experiences.
And the worst Christmas song in the history of the world is remade, and it's still completely tasteless.
Have a wonderful weekend and stay warm!
2 Comments