In high school, I was a member of the speech team, and spent many weekends clomping around unfamiliar hallways in heels, black knee-length skirts, and silk blouses. Those days of nervously performing oratories while dressed as a businesswoman from the late 1990s are long gone, and in my current life as a busy mom, I dress much more casually. Cotton has been my favorite fabric for many years, but last fall, I added a silk blouse from Amour Vert to my wardrobe and it's become a staple in my closet.
As a teenager, I never thought of silk as versatile, and only wore my few silk blouses to weekend tournaments after my mother had them dry cleaned each week. But, it turns out, silk is an excellent and ethical alternative to cotton, and if cared for properly, can last for years. I've been wearing my heart-patterned blouse with jeans, my favorite uniform, and adding a cardigan if the weather is cool. I've always thought of silk as very hot and not breathable in our oppressive Texas heat, but this blouse is light and weightless, which makes it great for all seasons. The fabric isn't sheer, which is also nice, because I prefer not to wear tanks or camisoles under blouses if at all possible.
Amour Vert is transparent about their fabrics, and they source mulberry silk made in India. While silkworms are used in the process, a fact that should be noted by vegans, the company only uses non-toxic dyes in their prints. Summer, from Tortoise & Lady Grey, has written a very insightful post about the sustainability of silk that is worth reading if you own silk pieces or are planning to add them to your wardrobe. I first read her post as I was considering ordering my blouse, and it really encouraged me to consider silk as an alternative to cotton. I have hand-washed my silk blouse several times and it always turns out beautifully after air drying. Also, I like to wear it more than once between washes, just to preserve the fabric longer, and will occasionally spray it lightly with an essential oil spray. That works very well and I don't have to dry clean it at all.
I would love to add another silk blouse to my closet eventually, though they are definitely investment pieces. The versatility and sustainability of the fabric makes it a great option for spring and summer and I wish I'd taken the plunge sooner. Do you wear silk often?
(To learn more about sustainable fabrics, check out Summer's wonderful guide. She has also recently launched a social enterprise site beginning a revolution for working moms at Lead Mama Lead.)
No Comments

on Trying On Silk
No Comments

on International Women's Day 2017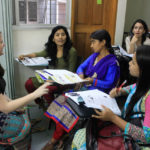 This post is part of a sponsored collaboration between the Ethical Writers Coalition and the Asian University for Women.
Last week, I bumped into a former student of mine. She was eager to tell me that she has applied to a local university, and hopes to study History. It was wonderful to see her after all these years, and her excitement for her future plans was really inspiring.
As an ethical blogger and a former teacher, I believe in the power of education. For women in developing countries, education offers opportunities that will positively impact their own lives, as well as those of their potential future children and their larger communities, too. When women receive a secondary education and beyond, they are more likely to prolong marriage and childbirth, to seek prenatal care and a skilled birth attendant, to immunize their children, to have access to better nutrition for themselves and their children, and to send their own daughters to school.
The Asian University for Women, founded in 2008 and located in Chittagong, Bangladesh, is an international university focused on empowering women throughout Asia and the Middle East. Currently, AUW serves women from 15 countries, 35 ethnicities, and 25 languages in their programs, including two pre-university bridge programs. Pathways for Promise, started in 2016, is a program dedicated to providing higher level education specifically to marginalized groups of women, including garment workers and Rohinga women, a minority group that has been systematically oppressed in Burma and Bangladesh. Almost 4 million women work in the Bangladesh garment industry, and Pathways for Promise has partnered with several clothing factory owners who agreed to pay their employees' wages while the women attend school for five years, eventually earning an undergraduate degree in Liberal Arts or Science.
Pathways for Promise marks the first step in the college experience and the year-long program focuses on English language development and communication. The second year, Access Academy, continues with college preparation, followed by three years of university classes. The application process is quite rigorous, yet in the first year of the program, over 1,000 garment workers applied. Currently, 30 former workers and 50 Rohinga women are enrolled in this first step toward earning their college degrees. In addition, students and recent graduates are participating in a new initiative, Education Cells, which gives them the opportunity to teach garment workers during weekly classes that are similar to the Pathways for Promise program. It's an excellent way for the students to practice their own teaching skills while serving as role models for other women who may wish to pursue their educational dreams, too.
Since 2013, the Asian University for Women has graduated 444 women, and most found employment or applied to graduate school within one year of receiving their degrees. Many of the alumnae attend graduate school in other countries, but 85% of employed AUW graduates return to work in their home countries, which will benefit their local communities. AUW has plans to increase student enrollment by 150% over the next seven years, and many of these women will undoubtedly come from garment factories.
I was incredibly inspired by my former student's exciting news and I'm equally inspired by the work of the Asian University for Women and its Pathways for Promise program. It's absolutely true that investing in the education of girls and women positively impacts society as a whole, and AUW's amazing initiative is solid proof.
(To learn more about the Asian University for Women, please visit their site and Facebook page. Statistics and photographs provided by AUW.)
Suggested Reading:
"Dresses to Degrees: University opens its doors to Bangladesh garment workers" from The Guardian.
Partners, Not Saviors: Pathways for Promise Promotes Change from Within, from StyleWise.
Women Have Potential Beyond the Factory Floor: This Initiative is Changing the Game, from The Peahen.
Forget the Slogan T-Shirt: Feminism is Educating Female Garment Workers, from EcoCult.
The Future is Female (Garment Workers), from The Note Passer.
Whitney Bauck, Fashionista + Digital Activism, from Conscious Chatter podcast.
1 Comment

on Pathways for Promise