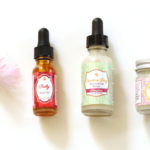 I've written a lot about what it means to be an ethical consumer, as well as an ethical news consumer, and in the past few years, I've carried that sense of responsibility and curiosity into researching the beauty products I use. I have been known to spend hours or even days researching ingredients or a specific product, and one of my favorite forms of stress relief is reading and watching beauty reviews. I find that I learn so much from other users' experiences, especially when it comes to natural beauty products.
Recently, I was given the opportunity to sample a few products from Earthwise Beauty, an organic skincare line based in Washington, and I was incredibly impressed by the products and the tireless dedication of Earthwise Beauty's founder, Ava Zhan. One glimpse at her website and I knew that I was in the right place, as each product is carefully and clearly explained in great detail. I spent days perusing the site and understanding Zhan's creative process while also learning more about the ingredients she sources and tests for each of her creations.
After moving to the United States from Poland in 1996, she began making beauty products for her friends and co-workers in the evenings, teaching herself about topics like aromatherapy and essential oils as she worked. Eventually, Ava began Earthwise Beauty and utilizes only the purest, most sustainable ingredients while working in partnership with gardeners, beekeepers, and essential oil distillers. She is committed to fair trade and sustainable practices, and this dedication is evident in every aspect of her business, from the packaging to the cost of the products themselves. Earthwise Beauty truly reflects the principles I choose to support when I shop, and it's been such an honor to sample and review them.
I was sent a selection of items that are perfect for the summer season, including Ruby Facial Oil, Carrot-a-Day Eye and Face Serum: Sensitive, and Farizad's Veil Sun Protective Powder. I've been using them faithfully for several weeks now, and I've come to love each of these products as part of my daily routine. My morning and evening skincare regimens are two of the most quiet and relaxing times of my day, and I look forward to them as I try new products. Earthwise Beauty's ingredients are so pure and nourishing that I plan to re-order once I run out of these items, and I'm excited to try the other products in the line, as well.
The Ruby Facial Oil was a seamless addition to my regular routine, and because it's filled with moisturizing ingredients including guava seed oil and rosehip oil, it is perfect as a serum under moisturizer, both day and night. I use it twice a day, often adding a drop of plain rosehip oil, and the oil goes on lightly and gently sinks into my skin. It can be blended with Farizad's Veil Sun Protective Powder to create a liquid sunscreen, which is how Earthwise Beauty recommends using both products in the summer. Ruby Facial Oil can be used alone or layered with other nourishing oils and I think it would be a wonderful starting point for those new to using facial oils.
I also tried Farizad's Veil Sun Protective Powder, which contains non-nano uncoated zinc oxide and several essential oils, including frankincense. After discovering an allergy to titanium dioxide several summers ago, I'm always searching for zinc oxide products for both sun protection and calming effects, and this powder is truly amazing. It can be used alone, though it might cause a white cast in photographs, so it's fine to mix with tinted powder. I actually use it with my white RMS Unpowder and have had great results, especially when I'm out in the Texas sun on my daily walks with my dog. It also mixes well with your favorite oil or serum, and the Ruby Facial Oil was specifically designed to be used in conjunction with this powder. There is a slight rose scent which I enjoy, but if you don't like it, you can leave the lid off of the powder for a few days, covering the jar with a thin cloth, and the smell will disappear. I really recommend Farizad's Veil Sun Protective Powder as a wonderful natural sunscreen.
The third and final Earthwise Beauty product I sampled, Carrot-a-Day Organic Face and Eye Serum: Sensitive, quickly became one of my new favorite products. Earthwise Beauty recommends refrigerating this serum to preserve the freshness of the ingredients and to increase the soothing effects. Carrot-a-Day includes aloe juice, carrot seed oil, and German blue chamomile oil to create a lightweight gel texture that is incredibly soothing. It was also formulated in response to some customers' sensitivity to the original Carrot-a-Day Serum, which I have not tried. I found this serum to be incredibly soothing under my eyes and I also used it as a spot treatment for a rather severe hormonal breakout I experienced recently. The scent is light and refreshing, and I found myself reaching into my refrigerator several times a day to reapply it.
Because of the refrigeration required, I did not take Carrot-a-Day on a recent trip to Galveston, Texas. We drove down to the coast and the heat in Texas is oppressive, to say the least, so I didn't want to risk spoiling this serum. I missed using it while I was gone and as soon as I returned, I washed my face and applied it. Carrot-a-Day is the perfect refresher at the end of a long, hot day, and I am really impressed by its potency, too. I use it daily under my eyes in the evenings and apply it to a few dark spots on my face twice a day. It's also incredibly nourishing and I'd recommend it as a wonderful advanced serum, to be layered with single facial oils.
Overall, I am completely enchanted with Earthwise Beauty and I'm looking forward to trying more products in their line. I definitely recommend perusing their site to learn more about the creation process and the love that goes into this incredible brand. Ava Zhan's dedication to her work is very inspiring and her knowledge of natural, organic, and sustainable ingredients is both evident and admirable.
No Comments

on Earthwise Beauty: Skincare for Natural Beauty Enthusiasts
I'm a big fan of Transparent, and in between seasons, I sought out creator Jill Soloway's other work. As it turns out, I've been watching their shows for years, including Grey's Anatomy and The United States of Tara.  There is something about Soloway's writing that I really relate to, probably because, like many of the characters, I'm a wife and mom in my late 30s. Jill Soloway often explores the different roles women assume throughout their lives, and the most recent pieces address female sexuality in ways that haven't been depicted in the past.
When Grechen mentioned watching I Love Dick recently, I listened to the Fresh Air interview with Soloway (also recommended by Grechen) and then started watching the show. Kathryn Hahn, who plays the lovely rabbi Raquel in Transparent, is featured in this new Amazon show based on Chris Kraus' book by the same titillating name. Hahn often works with Soloway and played the main character in Afternoon Delight, which I watched again recently. It's a beautifully raw portrayal of a California stay-at-home mom's life, and again, I found myself relating on many levels. After listening to the Fresh Air piece, it's easy to see Hahn's portrayal of Soloway's characters as an extension of Soloway. In Transparent, the characters of Sarah and Ali also embody those same qualities of women searching for something more than their assigned roles in life. Soloway very recently came out as trans, preferring gender-neutral pronouns.
With I Love Dick, which Soloway calls "a celebration of the feminine," Hahn's character, who is married, actively seeks out the man she is attracted to, who also happens to be the founder of the art institute where her husband has come to study. It's a complicated story, but Soloway fills it with strong feminist characters who are artists in their own right, and uses other films and art pieces to illustrate the concepts at play within the show. There's also the fact that it's set in Marfa, a somewhat mysterious arts colony in west Texas, and the character of Dick is based loosely on Donald Judd, who helped put Marfa on the artistic map. This piece about I Love Dick's director, Jim Frohna, is especially good.
I quickly devoured all eight episodes of the new show, and I've finally convinced my husband to watch them. The characters, the setting, and the clothing are so gorgeous, and each short episode is wonderful, just by itself. My very favorite is the fifth, "A Short History of Weird Girls," and it's beautifully acted by Hahn and her fellow actors, Roberta Colindrez, Lily Mojekwu, and India Menuez. I also did a bit of digging and found the Instagram account for Marie Schley, the costume designer for both Transparent and I Love Dick. Hahn's wardrobe in I Love Dick is really enviable, and features pieces by Isabel Marant Étoile. In one scene, Hahn's character wears a stunning silk wrap dress, and her husband doesn't even notice. But I noticed, and I'm fairly certain it's the Kamil Dress, or a very similar version of it. Lily Mojekwu, who plays the curator of the institute, also wears beautiful pieces by Eskandar.
Eight episodes just isn't enough, and the ending of the final show bears a resemblance to a pivotal scene in Afternoon Delight. I'm looking forward to a second season, as well as Transparent's fourth season, and I can't wait to see more from both Jill Soloway and Kathryn Hahn.
No Comments

on I Love Jill Soloway and Kathryn Hahn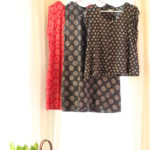 This is Fashion Revolution Week and Monday marked the fourth anniversary of the building collapse at Rana Plaza. Since 2013, the issue of ethical clothing has moved closer to the forefront of the fashion world, and many brands have taken steps to become more transparent in their supply chains. Consumers have become more educated, too, and things have started to change for the better. But there's more work to be done.
This year, I'm celebrating my favorite ethical pieces with a little love letter, of sorts. Some of my fellow Ethical Writers are also participating, and I'll link to their blogs below. Fashion Revolution asks participants to love our clothes more and longer, in an effort to reduce consumption and waste. My most favorite ethical pieces were purchased in 2013, after the events at Rana Plaza opened my eyes to the bigger issues of the fashion world. Some of my first purchases were from Mata Traders, which employs fairly-paid female workers in India and Nepal, and I still wear them frequently through the hottest months in Texas. I started with a single black shift patterned with a beautiful handblocked print, and eventually bought a second dress in red. Both dresses are cotton and sleeveless, and the epaulets on the shoulders are my very favorite detail.
If you've experienced a Texas summer, then you know it's almost painful to wear clothing in the heat. I always look for the lightest fabrics and easiest silhouettes, because extra details like heavy waistbands and body-hugging styles will only weigh you down and make you sweat. These dresses, along with a blouse in a similar style, are my closet essentials in July and August, and I wear them weekly. I can wash them on the gentle cycle, and if I hang them outside to dry, they are ready to go in an hour or so. It's wonderful to throw a dress on in the morning and feel ready for the day, and their casual style is perfect for my suburban life of running errands and shuttling my boys to their activities.
All three pieces have seen a lot of wear since I purchased them in 2013, and I've actually altered each item slightly by removing a few gathered, elasticized seams on the bodices. That way, I'm able to wear a belt with the dresses and blouse and can dress them up a little. And, looking back through my posts, I've written about the dresses on five separate occasions, so it's easy to see how much I love them. While I don't consider myself very sentimental, I do think I'll keep these three pieces forever. The fabrics and small details are beautiful, and bringing them out of my closet each year heralds the arrival of another wonderful summer.
Do you have a favorite clothing item you'll never part with? I'd love to hear your love story!
And here are some great posts from my fellow Ethical Writers:
FashRev Week: My Fashion Revolution Love Story, from Leah of StyleWise.
Fashion Revolution 2017 Love Story: Paris Flea Market Cardigan, from Annie of Terumah.
14 Sustainable and Ethical Fashion Myths That Need to Die, from Alden of EcoCult.
I'm Starting a Revolution, from Kasi of The Peahen.
Fashion Revolution Week: Where Do I Begin? from Kaméa of Konscious Whispers.
My earlier Fashion Revolution posts can be found here.
2 Comments

on Fashion Revolution Week 2017: A Love Story