Our Indigo Axis
Back in early October, I showed you the furniture we ordered from Crate and Barrel, and it arrived in time for Christmas!  That was a really nice surprise, since we were expecting it to ship in early January.  We had to scramble a bit to find a donation site for our old furniture, rearrange a few birthday plans since the delivery date was on Ryan's birthday, and wait around all afternoon for the delivery truck, but it was worth the trouble and we're enjoying our new sofa and loveseat.
I always have a hard time with change, and even though I was so excited to upgrade to a new couch, it has still been an adjustment for me.  I did feel a little sad saying goodbye to our old pieces, but I know they served us well and, hopefully, someone else will get to enjoy them, too.  I'm really thrilled with the color and the fabric, but the furniture is really, really firm right now.  I know it will soften up in time, since the store model was quite a bit softer, but I miss sinking back into the cushions to watch a movie at night. Right now, I feel like I'm sitting at attention and I have to prop myself up on pillows to get really comfortable.  Part of that is probably because, at 43 inches deep, the Axis II is well-suited for taller people.  Ryan, who is six feet and sometimes gets back pain from lifting his beer equipment, is absolutely thrilled with the couches and loves their firmness.
The color is called Indigo, but is really sort of blueish-grey, and the sueded microfiber is very soft and durable. Since we didn't get to see an actual model in our color and fabric, but only a swatch, I was holding my breath, but I'm really thrilled with both choices.  I'm still making the boys wash their hands after eating before they sit down, and shoes are definitely not allowed on these couches, but I know I'll loosen up as the furniture ages.  This is our family furniture for the long haul, and as Ryan reminded me, we aren't at the French Cottage stage quite yet.
I'm showing you a few pictures for reference, mostly because I couldn't find any actual photos of the Axis II pieces in Indigo when I was doing my research.  I took these shots on our cloudy Christmas Eve, while the boys were playing at the park with Ryan.  Normally, things are more relaxed, with toys scattered everywhere.  I'm starting to love the combination of blues and I added a few pillows to bring out the colors of the curtains and the rug, at my sister's suggestion.
I also splurged on two gorgeous pillow covers from one of my favorite Etsy sellers, Jolie Marche, and the hot air balloon and wistful mermaid add a bit of whimsy to the room. I think it's really warm and cheerful for a family room, and I know I'll get those couches to soften up over time.
June 2020 Update: Periodically, I receive questions about how these Axis pieces are holding up, so here are some very unstaged pictures to show you. We moved to a new house in April of 2019, and both the couch and loveseat are still going strong. I don't vacuum them as often as I really should, but when I do, they look brand new again.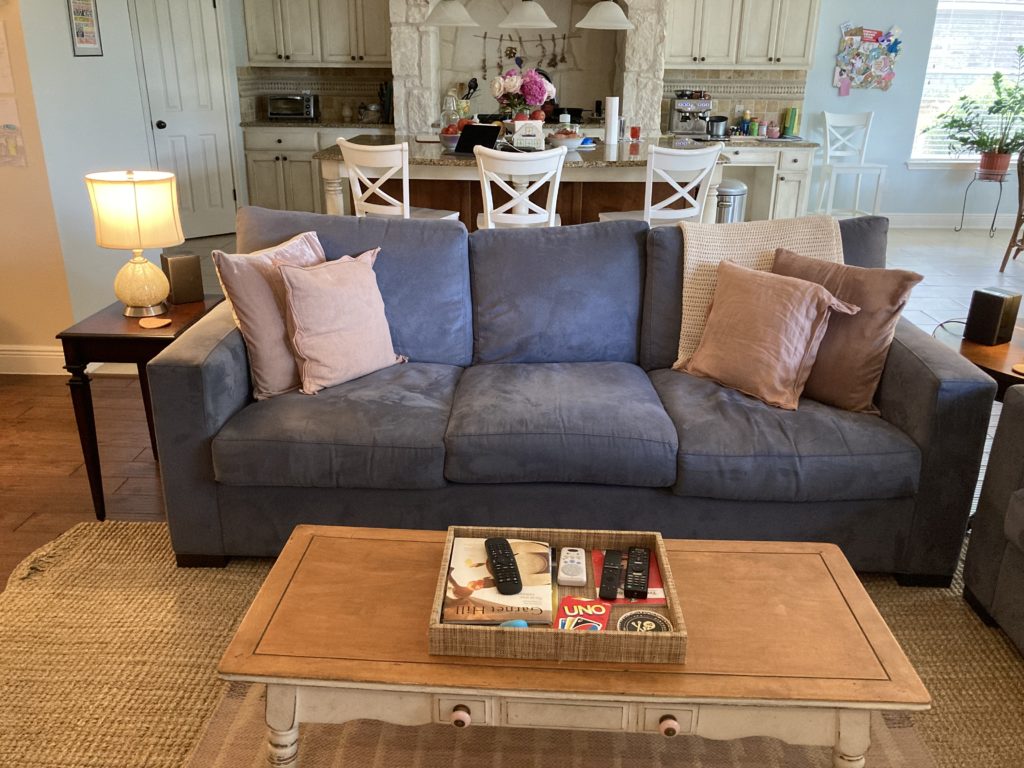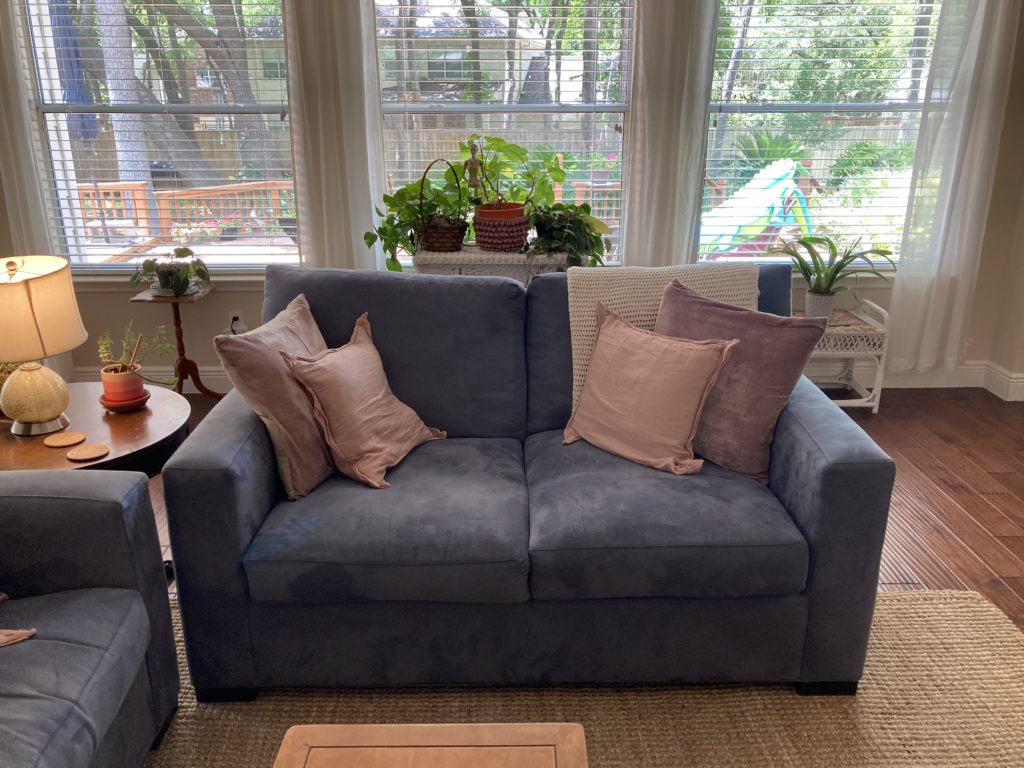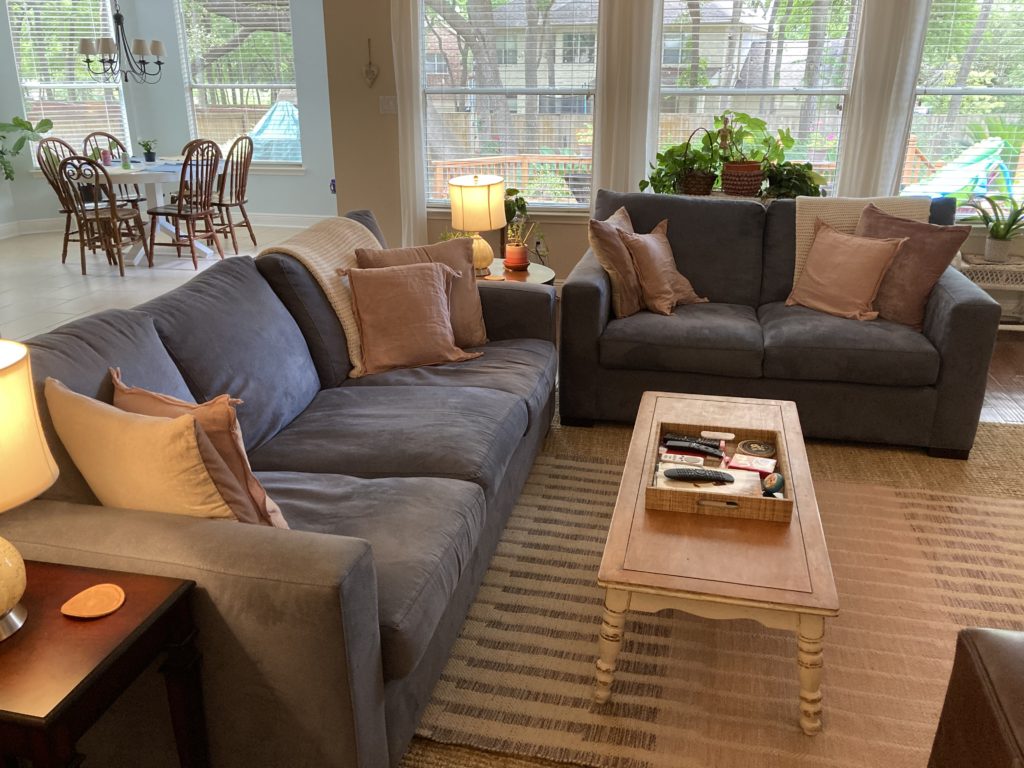 These are the furniture pieces our family lives on, so they have seen some spills and accidents throughout the years. I've been incredibly impressed with how easy to clean and durable they truly are. I can definitely recommend them for families with growing children and dogs.