Winter Coat
We have very mild winters here, and I rarely find myself in need of an actual coat.  I tend to run hot, and I always prefer to feel too cold as opposed to too warm.  Going from house-to car-to school only necessitates a light jacket or sweater, so I think it's fun to have a variety to choose from.  I recently found two lovely sweaters on sale at Ruche, and each one instantly brightens my cold-weather uniform of jeans and a tee.
I also took these pictures myself, using Ryan's awesome "tripod" setup: an upside-down bucket placed on top of a step-ladder, which holds our camera on its GorillaPod, and a remote control.  It works surprisingly well, and I feel much less inhibited when nobody else is around.  I abhor having my picture taken, but it is so easy to do it alone.
Here are the pictures of my new "winter coats."
The "Take It Easy" Cardigan (now unavailable) is so cute and comfy, and because it has short sleeves, I can wear it now.  It works well with a tee or tank top, as well as layered over a long sleeve shirt, too.  It will definitely become one of my staples for Fall, and I love the fun blue stripes.
The remote has a two-second delay, but I took this one just for fun!
I love the "Swept Off My Feet" cardigan for its feminine versatility,  but the back is really the stunner!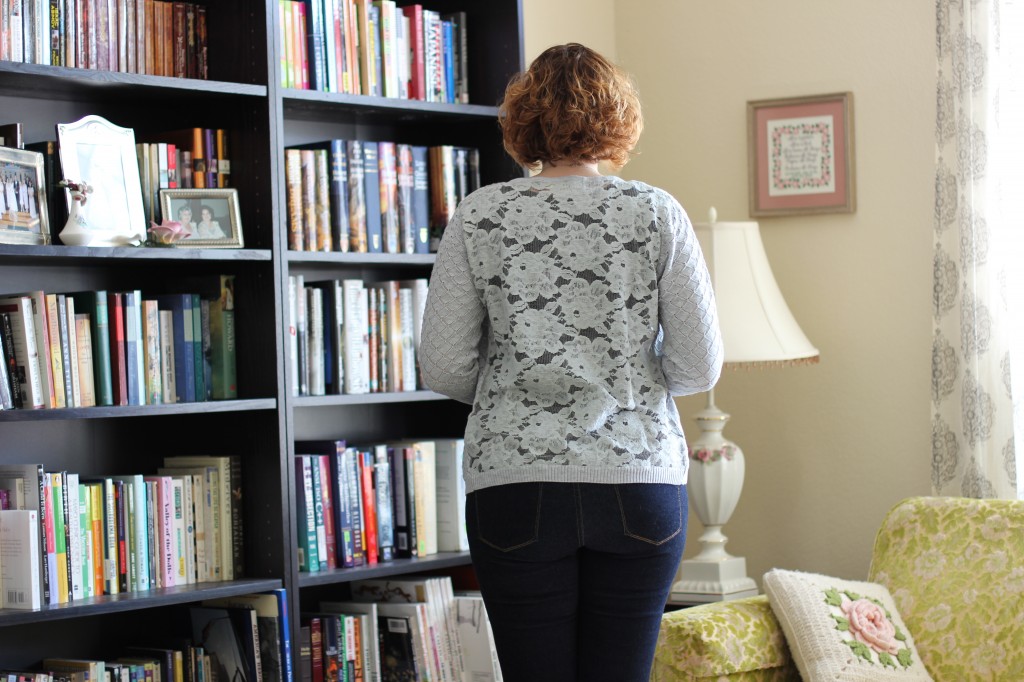 I adore the lace cut-out on the back, and it will look great with a variety of tops.
And I couldn't resist a little self-deprecating humor, since no one was around.